About Pozi-Dog Training

How it all started

POZI-DOG Training was set up by Martin Trevor to help and assist people with pet dogs. Dog behaviour problems can have a negative effect on peoples lives, it's the main reason for the increasing number of dogs being surrendered to rescue centres.

Why Dog Training

After witnessing dog owners struggle with their dogs bad behaviour both out on the walk and in the home, Martin began to study dog behaviour and how dogs learned through interaction with humans and other dogs. It became clear to Martin that using kind, friendly and sensitive behaviour modification methods he was able to help dogs and owners have a happier life together

Knowledge and education

Along with his natural ability and affinity with dogs, Martin studied for years, completing various courses and gaining many certificates. He developed techniques to help modify dog behaviour while communicating on a level that people can understand and are comfortable with. He realised that many dog owners were still under the impression they had to dominate their dogs, to be Alpha or top of the pecking order, he explains and demonstrates how non of this is true.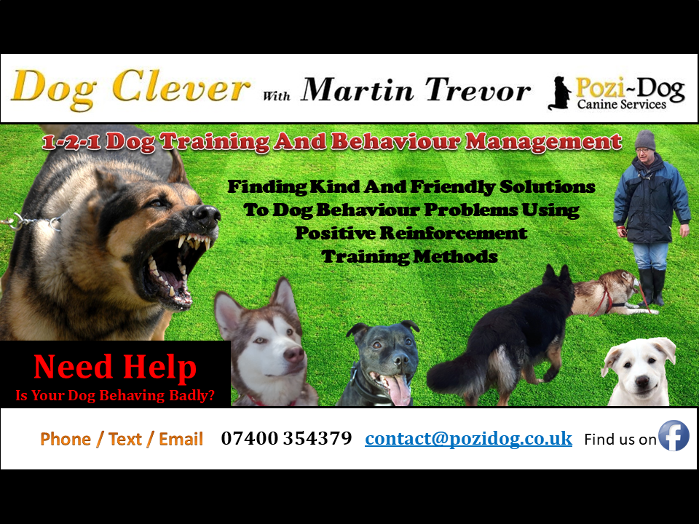 Positive Dog Training and

Behaviour Management

Certified ADTB Approved Dog Trainer, Fully Insured

,
"If I can help as many people as possible to live in harmony with their dogs then I have achieved something great and hopefully saved a dogs life along the way.




I have studied dog training and behaviour for years, completing various courses resulting in many certificates from the very best in the field of dog training and behaviour. My own dog Kaya was deeply scarred when I rescued her, a nervous aggressive with many other issues. I believe you have to live with a dog with numerous issues to even begin to understand and treat other dogs with behavioural problems.

Working with and studying dogs has taught me more about dog behaviour than any course or qualification. I love dogs and get a real thrill from helping people suffering dog behaviour problems. It's clear to me that many problems are simply down to misunderstandings and miscommunication between dog and owner. Fear and anxiety play an increasing role in dog behaviour, often misinterpreted as a badly behaved dog, an aggressive dog or simple a dog that will not settle or listen to its owner. I often recognise fear and anxiety in dogs from a distance while out and about.

When I see the pleasure and sometimes relief on peoples faces following a consultation or training session I feel I've been successful".
Call Martin on

07400 354379




For a free no obligation discussion

Based in Clifton, Rotherham,

South Yorkshire

Copy right 2016 all rights reserved